Series Honours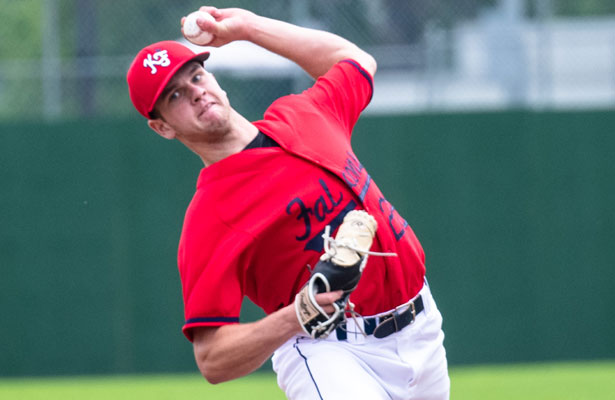 It was a tough weekend series for the Falcons dropping two of three in Victoria against the Harbourcats. Runs were not easy to come by, however one player made his debut and showed he will be a force the rest of the way. We are proud to announce the Player of the Series presented by Wildfire Marketing.
Player of the Series
Troy McCain – incoming freshman for Cal Poly University, Chino, CA
He made his Falcons debut this weekend and showed outstanding power. He clubbed two homers, collected three RBIs and had a walk. As a matter of fact, the only run the Falcons scored on Sunday was his solo homerun. Defensively he played rightfield and made three putouts. McCain just graduated high school and will be heading to Cal Poly for his freshman year in the fall.
Pitcher of the Series
Nick Woodcock – Yavapai College, Whitby, ON
For the second time this season Nick Woodcock wins this honour after an outstanding performance on Saturday night. He kept the Harbourcat hitters at bay tossing 4.2 innings allowing just one hit and fanned seven. His performance helped the Falcons win their only game of the series, a 4-3 victory. He now leads the pitching staff with 12 strikeouts.
The Falcons stay on the Island and will travel to Nanaimo to take on the newly expanded NightOwls for a three-game series that opens on Monday night. Jasper Nelson is the probable starter. Following that series, they return home to open a series with the Kamloops NorthPaws on Friday night and fans will be treated to a spectacular fireworks show after the game. Reserve your tickets HERE.
Photo courtesy of Tami Quan Photography