Falcons Win Opener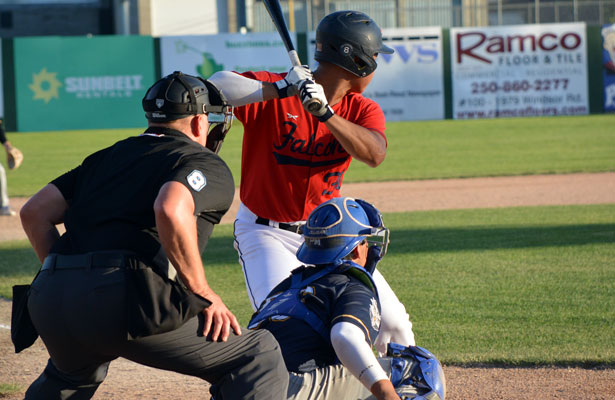 The Kelowna Falcons gave the hometown crowd plenty to cheer about on Tuesday night in the home opener downing the previously undefeated Nanaimo NightOwls 9-3.
The Falcons got on the board first in the fourth inning. Raphael Smeenk led off the inning with a single to centerfield, then would promptly steal second. He moved over to third on a wild pitch before Abe Affholter knocked him in with an RBI single.
Pitching was the story early on as both starters seemed to be on point. Trey Shepard for the Falcons was dialed in, throwing five innings of scoreless baseball and struck out four, but finished with a no decision.
The NightOwls would tie the game in the top of the seventh with a single run off reliever Mason Sweeney.
The tie didn't last long as the Falcons bats came alive in the bottom half of the inning scoring three times. First, Jonas Salk scored on a wild pitch after earning a lead-off double, then later Konner Palmeira snuck a grounder through a drawn in infield to bring home Kyle Corso and Griffin Palfrey to give the home side a three-run lead.
In the bottom of the eighth the Falcons tacked on five more runs for insurance and sent a huge crowd home happy as they move back to .500 at 2-2.
On the bump after Shepard's outstanding start, Thrasher Steed pitched an inning of scoreless ball. Sweeney came out of the pen to throw an inning and picked up the win before Blaine Hardy pitched the ninth in mop up duty.
The Falcons and NightOwls will play game two of the three-game series on Wednesday night. The first pitch is set for 6:35pm, with the gates opening at 5:30pm. Tickets for the game can be purchased online HERE.