GAME ON!!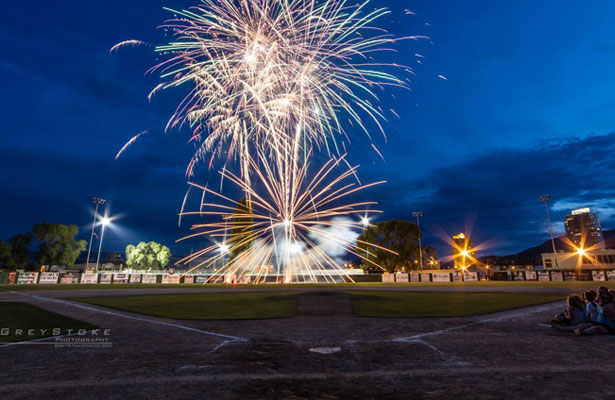 Its finally here! After over 1,000 days Kelowna Falcons baseball is back at Elks Stadium this weekend when the club hosts their divisional rivals the Victoria Harbourcats for a three-game series.
"We couldn't be more excited," says General Manager Mark Nonis. "The league has expanded to three other Canadian markets including a natural rivalry in Kamloops, so I know this will be one of our best seasons yet with renewed excitement."
The West Coast League (WCL) has ballooned to 16-teams, five of which are now in Canada, the Falcons, Victoria, Kamloops, Nanaimo and Edmonton. Each team will play a 54-game schedule with the Falcons hosting 27 home games at Elks Stadium beginning on Friday night.
"We want to welcome our amazing fans back to the ballpark with a bang," says Nonis. "Friday night Stutters Restorations has bought everyone a ticket, so admission is free. Then on Saturday night following the game we will light up the sky with a spectacular fireworks show, then Sunday all minor baseball players that wear their jersey will receive a free ticket to the game."
"Throughout the season we have partnered with some incredible charities and will be hosting fundraisers for them during our games. Next Thursday (June 9th) is our first one to support our incredible local heroes, the KGH Foundation. Later this summer we will wear specialty orange 'Every Child Matters' jerseys to support Westbank First Nation, as well has our annual Firefighters Burn Fund fundraiser."
The Falcons 40-person roster currently features 17 pitchers and 23 positional players including Logan Keating and Jaden Parsons from Kelowna. Not all players will be in Kelowna for this weekend as some are still in school while others continue to compete in the NCAA playoffs.
Coming into the season the WCL has expanded the playoff format, now featuring eight of the league's 16 teams with all eight postseason teams hosting at least one playoff game. The postseason begins in early August.
The new Falcons roster will hit the field on Thursday morning at 10:30 for their first practice before opening the season at Elks Stadium on Friday night at 6:35pm. Get to the ballpark early as admission is free.
Tickets for the games on Saturday and Sunday can be purchased HERE.
Photo courtesy of Greystoke Photography