Repping Team Canada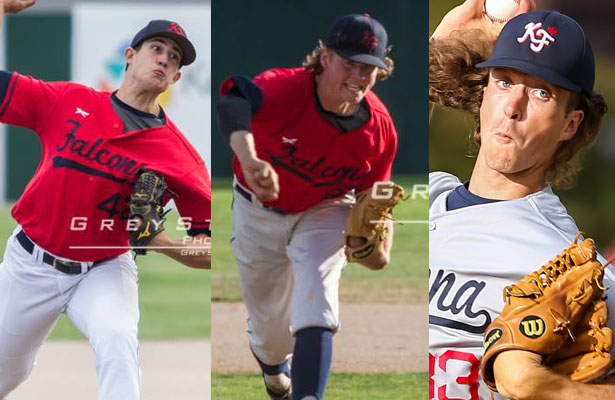 A threesome of former Kelowna Falcons pitchers are getting a very rare opportunity this spring.

Both Curtis Taylor and Trevor Brigden will pitch for Team Canada at the upcoming World Baseball Classic (WBC), while righty Alex Webb throws for Great Britain. Team Canada is in Pool C and will play in Phoenix Arizona from March 11-16, 2023. Mexico, Colombia, Great Britain and Team USA are also part of Pool C.

Team Canada will open the Classic against Webb's Great Britain on Sunday March 12.

Taylor threw for the Falcons during the summer of 2015. The righty finished 3-3 with two saves in seven appearances. He fanned 36 hitters and had an ERA of 3.37. The following summer he was selected 119th overall in the 2016 Major League Baseball Draft by the Arizona Diamondbacks. The 27-year-old is now part of the Chicago Cubs organization and is scheduled to start the season in Triple-A with the Iowa Cubs.

Brigden was a Falcon in 2018 and was part of a very solid pitching staff. He finished the season 4-4 with a 2.94 ERA striking out an incredible 69 batters, second most in franchise history. Like Taylor, it was the following summer (2019) when the Tampa Bay Rays called his name in the 17th round of the Major League Baseball Draft. He is still in the Rays organization, finishing last year in Triple-A with the Durham Bulls. He has been invited to the Rays spring training following the World Baseball Classic.

Like Taylor, Webb was also part of the Falcons pitching staff in 2015. He primarily came out of the bullpen making 13 appearances, striking out 30 batters over the course of 27.2 innings and finished with a 2.60 ERA. He gathered a 2-2 record with three saves. In June of 2016 Webb was selected in the ninth round of the Major League Baseball Draft by the Cincinnati Reds. His career was sidetracked by a shoulder injury finally being released by the Daytona Tortugas in 2018. Since then, he's kept sharp pitching in Great Britain and will hit the mound during the WBC next month.

In all, 20 players with West Coast League experience will play for eight different countries at the WBC. It begins on Wednesday March 8 when Panama faces Chinese Taipei in Pool A. The championship game is scheduled for March 21st in Miami.