PLAY BALL!!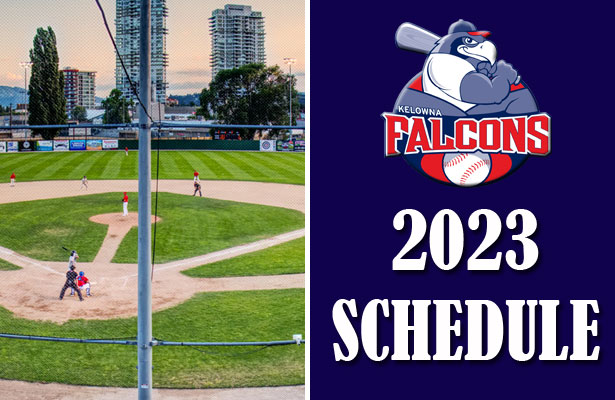 The Kelowna Falcons will open the new West Coast League baseball schedule on Friday June 2, 2023 on the road when they travel to Portland to take on the Pickles. The home opener will be four days later on Tuesday June 6, when the Nanaimo NightOwls come to town.

The Falcons enter their 21st summer in Kelowna and will play a 54-game schedule which concludes on Sunday August 6, 2023 in a home game with the Wenatchee Applesox. Expectations will be high again this season as manager Doug Noce and the rest of the coaching staff returns.

"I felt we had a good team with a number of good athletes last season, but we were hit by the injury bug," said General Manager Mark Nonis. "With a year of recruiting under their belt and a renewed focus the coaching staff is piecing together another very competitive roster for this upcoming season. I'm excited to get going."

Once again, this summer, of the 54-game schedule, 27 will be home dates with potential playoff games following the regular season. In addition to the NightOwls fans in Kelowna will see the Pickles, Applesox, Bellingham Bells, Victoria Harbourcats, Kamloops NorthPaws, Edmonton Riverhawks and the defending champion Corvallis Knights.

Season tickets are available now by calling the Falcons headquarters at 250-763-4100. For a complete schedule click FALCONS 2023 SCHEDULE.