Buzzing To Kelowna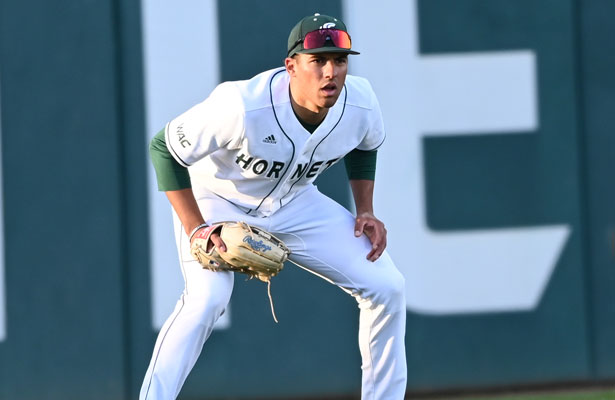 With the season less than a month away the Kelowna Falcons are proud to announce three positional players from the Sacramento State Hornets have been added to the roster.

JP Smith has been the Hornets' second best batter this spring hitting .343 after 38 games. He has 48 hits, with 10 homeruns, eight doubles, 36 RBIs and 26 runs scored. He has a promising career playing in just his freshman season from West Sacramento California.

Junior outfielder Garet Crenshaw is a lefthanded stick from Fullerton California at 6'4 and 215 pounds. He has played in 40 games for the Hornets this spring and is hitting at a .248 clip with 29 hits, 10 doubles, three homers and 15 RBIs.

Finally, Sacramento's Jaxon Byrd (pictured) is another big body at 6'3 and 215 pounds that joins the Falcons as a utility player. He has seen limited action this spring, appearing in only 14 games collecting a pair of hits and two RBIs so far. He's a left-handed batter and will give the Falcons' coaching staff plenty of options throughout the summer.

The Falcons are still looking for a few more billet/host families to complete our student athlete experience. Families receive a grocery allowance, season tickets and an unforgettable summer learning about baseball from a different perspective. Contact Alex Draper to reserve your spot at 250-575-2400.

The regular season opens on the road June 2nd before the FREE home opener on Tuesday June 6th presented by Stutters Restoration.