First Win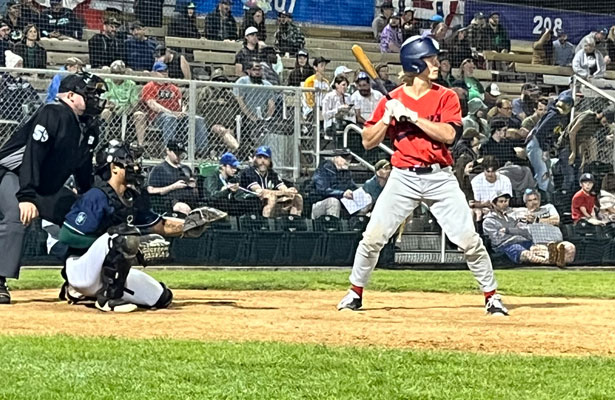 The Kelowna Falcons exploded for six runs in the fifth inning en route to a 10-8 comeback win in Portland on Saturday night.
After coughing up six runs in the second inning the Falcons battled back in the top of the fifth scoring six times with the biggest hit of the inning coming off the bat of Mateo Lake knocking in two runners on a two-out double.
The Pickles, however, would retake the lead in the home half of the inning off a two-out double of their own thanks to Jackson Waller.
They would keep the two-run lead until the seventh when the Falcons would cut it in half. Trey Duffield continued his hot hitting in the series with a double to chase home Konner Palmeira who doubled prior to Duffield. Then in the ninth the Falcons took the lead for good scoring three times on the strength of RBI hits from Sam Flores and Jonas Salk.
The Falcons bullpen in the final 4.1 innings was outstanding with Keaton Ruthardt picking up the win to bring the club's record to 1-1 with the rubber match in Portland coming up on Sunday at 6:05pm. WATCH HERE
On Saturday night the offence collected 10 hits, two by Palmeira and Salk while Duffield, Lake, and Flores each collected two RBIs each.
The Falcons free home opener comes up on Tuesday night presented by Stutters Restoration. The Nanaimo NightOwls are in town and the gates open at 5:30pm, first pitch at 6:35pm.