Bells Ring Back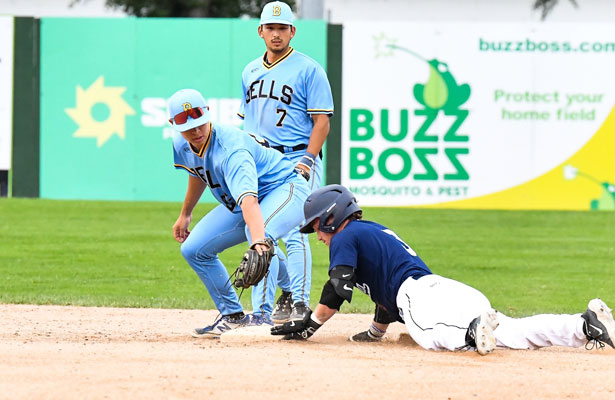 The Bellingham Bells evened the three-game series at Elks Stadium on Tuesday night with an 8-3 victory over the Kelowna Falcons.
The Bells used their strong pitching staff to keep the Falcons hitters off balance the entire game. Starter Jack Erdman scattered four hits over the course of five innings and gave up one run on his way to victory.
That one run came in the Falcons third inning when Jacob Devenny knocked in Jonas Salk with a two-out single to leftfield. Salk had doubled just ahead of the RBI hit.
The offence also struck for single runs in the sixth and eighth innings. In the sixth Nathan Chong singled to centre to drive in Konner Palmeria, then in the eighth Sam Flores doubled to bring home Mateo Lake.
In all, the Falcons had eight hits with Chong and Flores each collecting two of them.
On the mound Reece Bueno had a rough outing, coughing up six runs over the course of 1.1 innings, while striking out two. He suffered the loss after coming out of the bullpen.
The Falcons and Bells will play the series rubber match on Thursday night in front of a ruckus crowd. Thursday night is the annual Firefighters charity game with all ticket sales being donated to the BC Burn Fund. The game traditionally sells out and former Vancouver Canuck Aaron Volpatti will throw out the opening pitch. There are some tickets that are available and are online HERE.
Photo courtesy of Tami Quan Photography