Falcons Sweep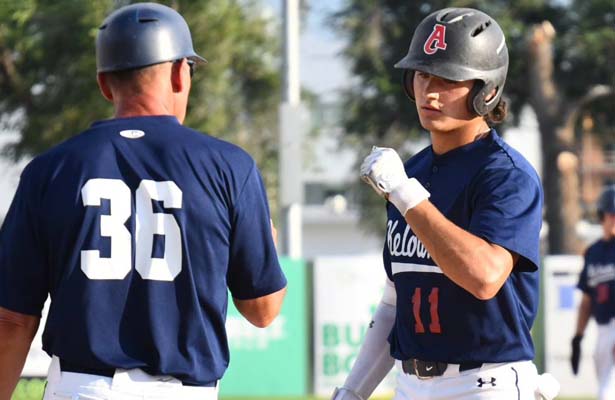 The Kelowna Falcons continued their winning was on Thursday with an 11-5 victory over the visiting Kamloops NorthPaws in the final game of the seasonal series.
The offence knocked out 17 hits and scored eight of their 11 runs in the final three at-bats which included a four-run sixth inning. Catcher Cam Mercurio had his best game of the summer going 4-4 with two RBIs and scored three runs. Raphael Smeenk was also outstanding with four hits, three RBIs and a run scored. Sam Flores, Luke Solis and Jaxon Byrd had multi-hit games as the Falcons won the seasonal series with the NorthPaws 4-2.
On the mound Teagan Ribbink recorded the victory throwing the final four innings, striking out five, giving up just one run and one hit.
The win also moved the Falcons to within two games of the front running Wenatchee Applesox for first place in the North Division. The plot thickens as well with the Falcons hosting the Applesox this weekend for three games. If the Falcons can sweep the series, they would potentially finish first in the Division, win the second half and have homefield advantage in the opening round of the playoffs. There is so much still on the line this weekend.
Fans can pick up their tickets for any of the three games this weekend online HERE.
Photo courtesy of Tami Quan Photography