What A Finish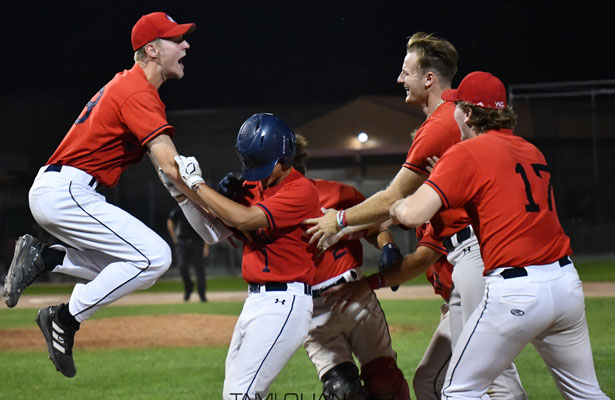 What. A. Game!
The Kelowna Falcons won their 30th game of the season in dramatic fashion scoring two runs in the bottom of the ninth, then one in the tenth to comeback and beat the Wenatchee Applesox 7-6 in extra innings.
In the tenth, Luke Solis led off with a single to left field, then promptly stole second base. With Eddie Fines at the plate, he would lay down a bunt back to the pitcher, who bobbled it before picking it up and throwing it in the dirt to first base. The ball at first wasn't fielded cleaning and was dropped again. Solis never stopped running, rounded third and sprinted for home. The throw was late, and Solis was called safe on a headfirst slide for the walk-off.
The dramatic win in extra innings would not have been possible without the offence scoring twice in the ninth inning. Cameron Mercurio was hit by a pitch and then Raphael Smeenk walked to put the first two runners on. Jonas Salk laid down a perfect bunt and beat the throw to first to load the bases. Griffin Palfrey then came up with a two-run single to tie the game and push it to a thrilling 10th inning.
The Falcons offence collected 11 hits in total with Solis, Palfrey and Trey Duffield each recording multi-hit games.
Meanwhile, on the bump the Falcons used four pitchers and fanned nine batters. Thrasher Steed was impressive in his two innings of work, striking out five and was the pitcher of record in the 10th inning so he collects the victory.
These two playoff bound teams will wrap up the regular season on Sunday with the series rubber match starting at 6:05pm. The game is also fan and billet appreciation night, so the team will empty out the prize closet. Tickets for Sunday along with playoff tickets are available in advance HERE.
Tuesday night the Falcons will host the Bellingham Bells in game 1 of the opening round of the West Coast League playoffs.
Photo courtesy of Tami Quan Photography